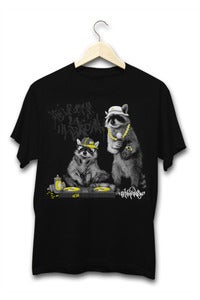 Here's another cool tee installation and I love love love this one.
Its is titled
DJ Rocky and Lil Rascal
designed by Philip Tseng. Too too cool. I wish I had a bigger image of the tee shirt but anyway...this works on so many levels! I mean you can't really go wrong with a name like Funkrush, canya?
I like it so much, I may well get one for myself, they are available for guys and gals.
Check out
funkrush
. They have an interesting mix and collection. Definitely worth a look! Think I am going to go and check out Philip Tseng, seems like my kinda guy. Here is his online
portfolio.

Great stuff.
See ya!